5 Reasons to Choose Luxury Vinyl Plank Flooring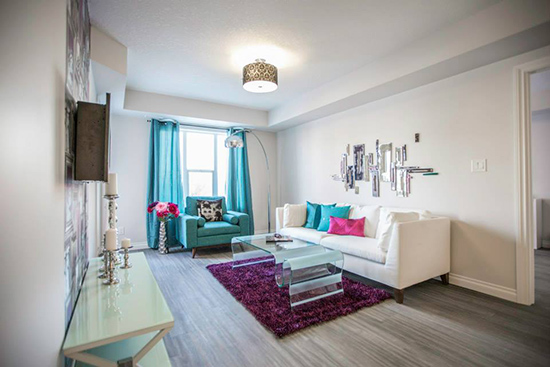 With so many flooring options and information available, it's hard to decide what's right for your space. Whether you're building a new home, renovating your existing home, or developing commercial space, Riverbend Interiors Floors & Décor has the selection and expertise to help you choose the floor that's right for you.
One of the greatest innovations in flooring in the last five years is luxury vinyl plank flooring. Vinyl flooring offers the appearance of hardwood or tile without its cost and maintenance. Luxury vinyl is available in a "drop" type product or a "click" option. It will not expand and contract like hardwood and stands up to heavy traffic spaces. Luxury vinyl plank is waterproof, easy to install, durable and repairable. The wide pattern selections allow you to install it almost anywhere.
1. Waterproof
Vinyl plank and tile are manufactured with a vinyl or plastic core, often reinforced with a fibreglass layer for increased stability, and is not susceptible to water. Vinyl flooring can be installed in kitchens, bathrooms, and mudrooms, as well as front and back entryways. You no longer need to worry about water damage from appliances and plumbing fixtures, or wet traffic coming in and out. For busy homes with pets and kids, this is the ideal floor for you.
2. Easy Installation
Whether you choose professional installation or to Do-It-Yourself, vinyl plank and tile are designed to be installed over any flat and dry surface including concrete, tile, linoleum, hardwood or plywood. Installation doesn't require any fancy tools. With minimal floor preparation, vinyl plank and tile are easy, and less costly, to install yourself. Of course, you can choose to have it installed by our qualified team of professionals. If you install it yourself, our team makes sure you have everything you need to succeed.
3. Durable and Repairable
Featuring poly-urethane UV coated wear layers rated for commercial use, vinyl plank flooring is one of the toughest products on the market. Let's face it, kids and pets are hard on your home. Dropped toys, birthday parties, spilled juice, excited puppy moments, and heavy traffic all take their toll. Vinyl plank is designed to resist damage and is easy to clean and care for, giving you peace of mind to enjoy your home without worry. One of the best features of this product is that if you do happen to damage a plank, it can be easily removed and replaced with a new plank.
4. Versatile
The stable core construction of vinyl plank flooring will not expand and contract like hardwood or laminate. It is a great choice for your cabin, sunroom, and travel trailer. The superior stability of vinyl plank also eliminates the need for transitions pieces, allowing a seamless passage from room to room. Multiple textures and finishing options make it a good option for stairs and can be customized into stair nosing, for a higher-end look.
5. Selection
This kind of flooring comes in a huge selection of patterns, colours, widths, and textures. This allows you to achieve the optimal design for any space. Digital graphics and embossing technology of vinyl plank add a range of textures designed to replicate the look of real wood or stone. Whether you are after a modern contemporary look, classic traditional, or a rustic, country aesthetic, Riverbend Interiors has the options to make your dream flooring a reality.
Riverbend Interiors Floors & Décor has selection, expertise and professional installers to make your renovation project go smoothly. Make your home the home of your dreams. Go ahead with your Do-It-Yourself projects, or have your flooring professionally installed. Riverbend Interiors provides free detailed estimates and offers a price match guarantee, so you can feel confident you're getting the best value. With quality flooring options in all price ranges, you can complete your project on time and on budget.