EUROSTYLE® Laminate Flooring: Leaders in Quality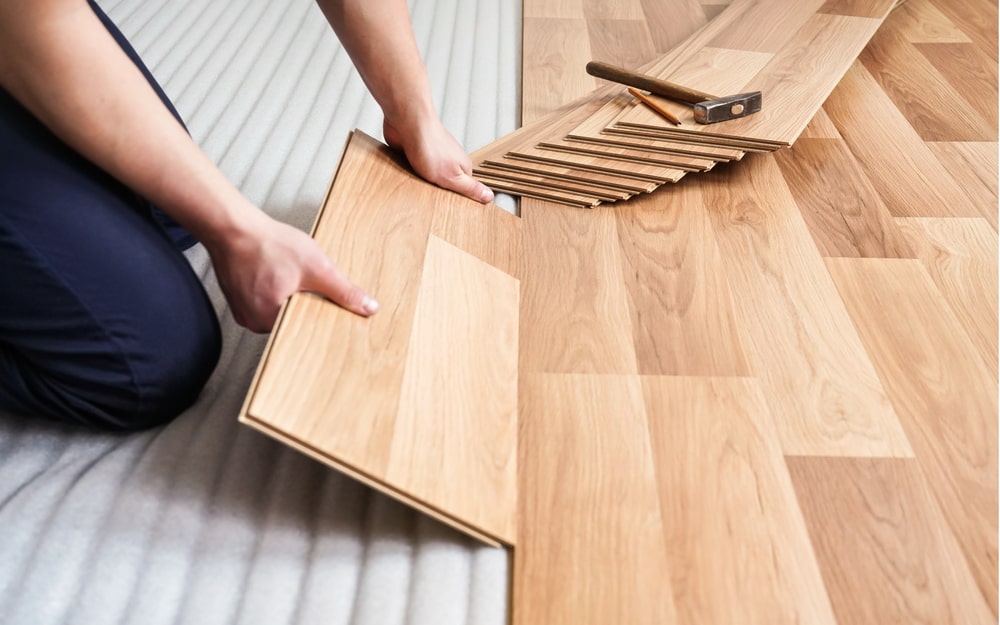 When it comes to enhancing the beauty and functionality of your home or office, choosing the right flooring is crucial. EUROSTYLE® laminate flooring stands out as a premier option, combining elegance, durability, and affordability. With its wide range of designs and exceptional quality, EUROSTYLE® laminate flooring offers a perfect solution for those seeking a stylish and long-lasting flooring option.
EUROSTYLE® Flooring is a Canadian company based in Vancouver. Their flooring products are 100% made in Germany using state-of-the-art technology and adhering to the highest industry standards. Each plank is crafted with precision and attention to detail, resulting in flooring that is durable, long-lasting, and visually stunning.
At Riverbend Interiors, we are proud to carry EUROSTYLE® laminate flooring in Cochrane.
What is Laminate Flooring?
Laminate flooring is a popular type of synthetic flooring that replicates the appearance of natural materials such as hardwood. It consists of multiple layers that are fused together using a lamination process.
The typical construction of laminate flooring includes the following layers:
Wear layer – The top layer is a clear, protective wear layer that provides resistance against scratches, stains, and fading. It enhances the durability and longevity of the flooring.
Decorative layer – This layer features a high-resolution image or pattern that imitates the look of real wood. Advanced printing techniques create a realistic appearance, capturing the texture, grain, and colour variations of the desired material.
HDF core layer – The high-density fibreboard (HDF) core layer forms the foundation of laminate flooring. It is made of compressed wood fibres combined with resin, providing stability, strength, and impact resistance.
Backing layer – The bottom layer is a moisture-resistant backing that provides balance and stability to the flooring. It also helps to prevent moisture from seeping into the core layers.
The layers are typically fused together using heat and pressure, creating a durable and dimensionally stable flooring product. Laminate flooring is available in various thicknesses, with thicker options generally offering better performance and sound insulation.
One of the key advantages of laminate flooring is its versatility. It offers a wide range of designs, colours, and textures, allowing homeowners and businesses to achieve the desired aesthetic for their spaces. Additionally, laminate flooring is known for its ease of installation, as many products feature a click-lock system that enables straightforward and glue-free installation.
Laminate flooring is also valued for its durability and low maintenance requirements. It is highly resistant to scratches, stains, and fading, making it suitable for high-traffic areas. Regular sweeping or vacuuming, along with occasional damp mopping, is usually sufficient to keep the flooring clean and well-maintained.
The Benefits of EUROSTYLE® Laminate Flooring
EUROSTYLE® is a renowned brand that has gained recognition for its outstanding laminate flooring products. EUROSTYLE® laminate flooring offers the look and feel of real wood, allowing you to achieve the desired aesthetic without the high costs and maintenance associated with traditional materials.
Authentic appearance – The laminate flooring is meticulously designed to replicate the natural beauty of wood. Through advanced high-definition printing and embossing techniques, it achieves a realistic texture and grain pattern. The result is a floor that captures the essence of real wood, bringing warmth and character to any room.
Durability – Crafted with durability in mind, laminate flooring is engineered to withstand the rigours of daily life. Its construction involves multiple layers that ensure exceptional durability, providing resistance against scratches, stains, and fading caused by sunlight exposure.
Easy installation – The laminate flooring features a convenient click-lock installation system, making the installation process hassle-free and efficient. The planks easily interlock, eliminating the need for messy glues or adhesives. This user-friendly installation method makes it an ideal choice for both DIY enthusiasts and professional installers.
Low maintenance – Unlike real hardwood flooring, this laminate flooring requires minimal maintenance. Its protective top layer acts as a shield, guarding against spills, stains, and wear. Cleaning and maintenance are made easy, typically requiring regular sweeping and occasional damp mopping to keep the floor looking its best.
Versatile designs – With a wide range of designs, colours, and patterns available, EUROSTYLE® offers versatility to suit various interior styles. Whether you prefer the timeless charm of oak or the sleek elegance of marble, there are options available to match your aesthetic vision. This versatility allows you to create cohesive and visually appealing spaces throughout your home or office.
Find EUROSTYLE® Laminate Flooring at Riverbend Interiors
As a trusted retailer in Cochrane, Riverbend Interiors offers a wide selection of EUROSTYLE® laminate flooring options, allowing you to find the perfect match for your style and design preferences. Call or visit us today – we're here to provide expert guidance and top-notch products for your flooring needs.