Congratulations! You have invested in your home and added value with new flooring. Whether carpet, vinyl plank or tile, hardwood, laminate, lino, or stone, your new floors require proper maintenance to keep them looking new. More importantly, each type of flooring comes with a warranty that stipulates how to best care for your floor and uphold your warranty.
By using the appropriate cleaning methods and products you will preserve the look and performance of your new flooring. Riverbend Interiors Floors & Décor carries a full line of professional quality cleaning and maintenance products to ensure proper care of your floors.
Soft surfaces, like carpet, require different cleaning methods than a hard surface floor such as hardwood or vinyl based flooring. For detailed instructions on how to clean and maintain your floor or remove stains, please refer to your manufacturer's warranty.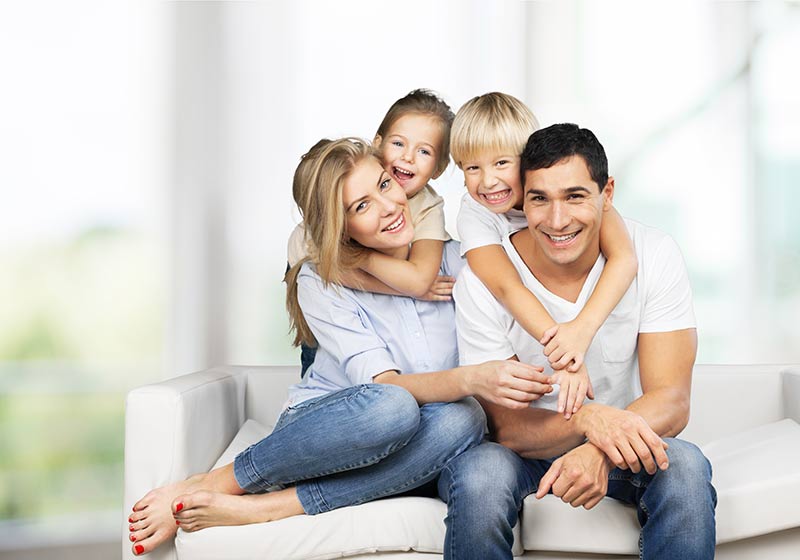 Here are some guidelines for caring for the different types of flooring.
Carpet Cleaning Tips
Carpet is the warmest and softest types of flooring and creates a comfortable, relaxing environment. Carpet is made from different types of fibers and in many styles, each with its own advantages for stain and soil resistance as well as texture retention. Styles with a loose twist or longer pile will wear differently than a loop, patterned, or lower pile carpet. Regardless of the fiber type or style, there are four basic steps to maintaining any carpet…
1. Vacuum carpets regularly, typically once a week. Higher traffic areas may require more frequent vacuuming. Refer to your specific warranty to see if there are any restrictions on the type of vacuum used.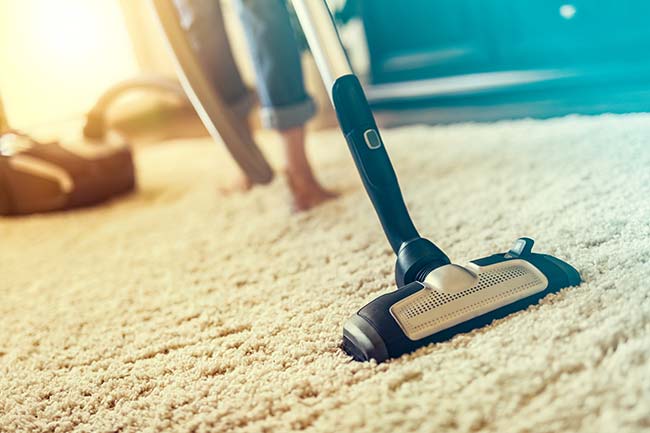 2. Clean spills and messes right away. Blot, don't scrub, liquid spills with a colourfast towel or paper towel until as dry as possible. Be careful when using cleaning agents to ensure they do not damage the carpet or leave residue behind. Read the directions carefully and test the product in an inconspicuous spot first. A list of products with a Seal of Approval can be found on The Carpet and Rug Institute's (CRI) website. http://www.carpet-rug.org/certified-cleaning-solutions.html
Your carpet warranty will typically include a stain removal guide as well with instructions cleaning different types of spills and stains.
3. Deep clean carpets every 12-18 months. Your warranty requires documentation of the cleaning schedule should a claim ever arise. A list of approved cleaning professionals and do-it-yourself machines can be found on The Carpet and Rug Institutes website. Whether you choose to rent a machine or have your carpet professionally cleaned ensure the products you are using are recommended and avoid topical treatments as these may void your warranty.
4. Remove shoes and use mats at entrances to prevent tracking dirt onto the carpet.
Hardwood
We carry and recommend these quality Bona products, available in convenient sizes to suit your needs.
Bona Pro Series Hardwood Floor Cleaner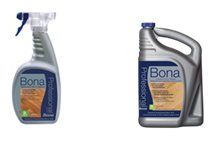 Bona Pro Series Hardwood Floor Cleaner Concentrate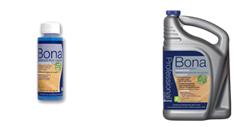 Bona Pro Series Stone, Laminate, and Tile Floor Cleaner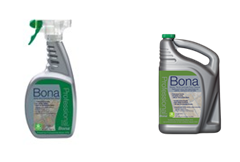 Bona Pro Series Duster/Microfiber Mop Kit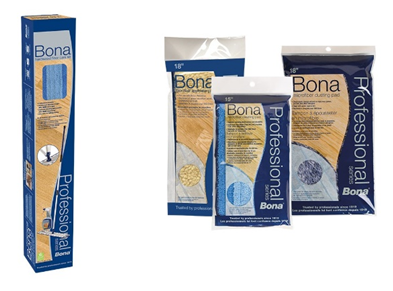 Hard Surface cleaning
with Lamanator Plus!
Works on Laminate, Hardwood, Luxury Vinyl Tile, Vinyl Composition Tile, Vinyl, Bamboo & Cork flooring.

Flooring Cleaner – Streak free product that leaves no residue or film behind. 100% Biodegradable, No Harmful Chemicals or Corrosives.

Fresh Start – Designed to remove factory grime, built-up cleaners & old waxes and deep clean your

Flooring Restorer – Designed to protect, seal and shine laminate flooring. Minor scratches and scuffs will disappear. It will help seal joints and prevent moisture penetration. To be used in conjunction with Lamanator Fresh Start.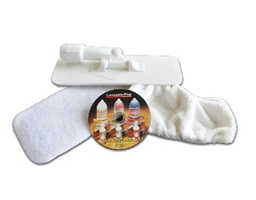 2 -in- 1 Mop kit – Includes Mop head, agitator pad (for use with Fresh Start), microfiber pad, and CD.

NEW! Fresh Surface Eliminator – Designed to eliminate germs, bacteria and viruses with silver nanoparticles. It is colorless, odorless, non-staining and is designed for use on all surfaces.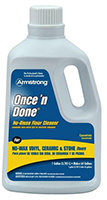 Armstrong Once n' Done – The Armstrong Once 'N Done Floor Cleaner is all you need to clean your no-wax vinyl, ceramic, marble and stone floors. No-rinse formula leaves no dulling, sticky residue. The Armstrong floor care products are designed to keep your vinyl floors looking as beautiful as the day it was installed.