What is the best type of flooring for the kitchen?
Posted on: January 13, 2021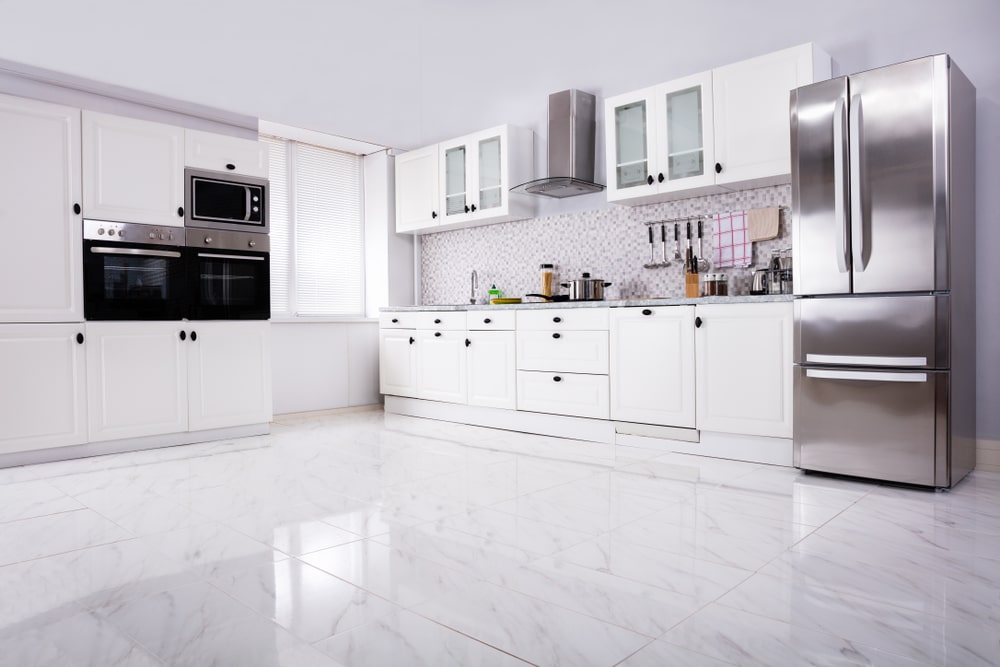 The kitchen is the hardest-working room in the house, experiencing a high volume of traffic daily. Kitchen flooring needs to be durable enough to handle spills, foot traffic, pets, and withstand wear and tear for years to come.
Fortunately, there are plenty of options to choose from and our experts at Riverbend Interiors Floors & Decor are here to guide you. Below are the pros and cons of three of our most recommended flooring for your kitchen to help you make the right choice for your home.
Hardwood flooring for kitchen
Engineered hardwood is extremely durable and can withstand high amounts of traffic. Easy to maintain, engineered hardwood flooring only requires regular sweeping and mopping to keep these floors in good shape. This type of flooring transitions well to other rooms and is ideal for homes with an open concept floor plan.
Pros:
Can withstand a high amount of traffic
Increases your home value
Moisture-resistant
Comes with many design options
Cons:
Hardwood flooring is the least cost-efficient
Difficult to replace a damaged plank
Tile flooring for kitchen
Tile is extremely durable, easy to clean, and one of the most moisture-resistant flooring options. Tile flooring is ideal for kitchens that see a large amount of foot traffic. To get the job done right, we recommend hiring a professional to install tile flooring for your kitchen.
Pros:
Extremely stain resistant and waterproof
Very durable
Budget-friendly options
Cons:
Can be slippery
Typically not a DIY project
Can be a challenge to stand on for long periods of time
Laminate flooring for kitchen
Laminate flooring is one of the most versatile flooring options with a diverse range of styles, colours, and patterns to choose from. You can choose a laminate that mimics authentic hardwood, stone, tile, or metal flooring. The laminate gives homeowners an endless selection that can be tailored to match the look of the home.
Pros:
Aesthetically pleasing
More affordable than hardwood
Durable and easy to maintain
Cons:
Possibility of moisture damage if the liquid is left on the surface for too long
Can't be refinished
In Conclusion
When choosing the right type of flooring for your kitchen, consider the one that best fits your budget and priorities. Is the style the most important factor? Durability? Or affordability?
At Riverbend Interiors Floors & Decor, we work with you to find the right option for you. Get in touch with one of our knowledgeable team members today. We are ready to answer your questions!