Things to Consider When Choosing the Hardwood Flooring
Posted on: March 11, 2020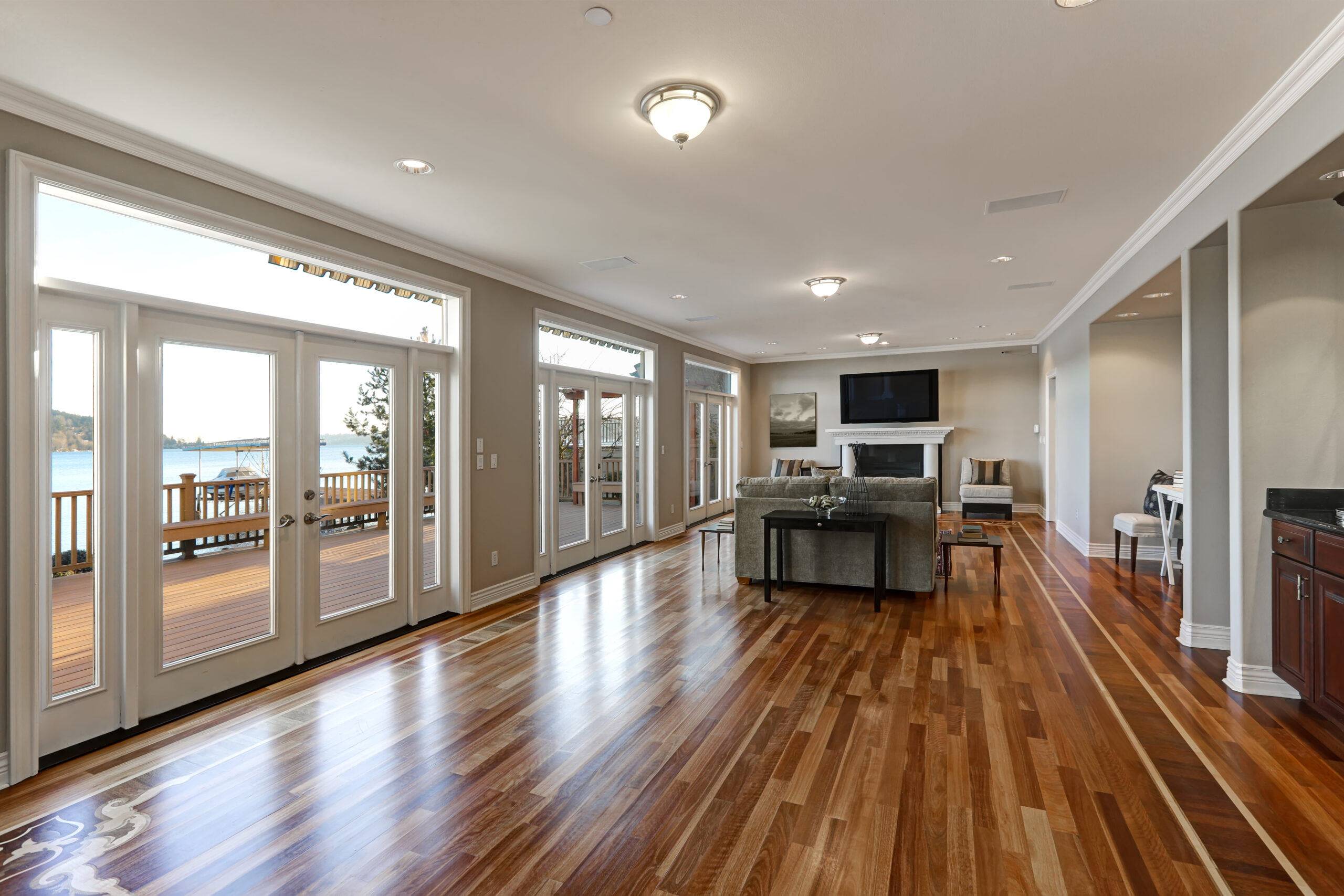 Hardwood is a beautiful flooring option with a variety of species, colours, widths, and finishes. If you are thinking about hardwood for your home there are a few things to consider to make sure you choose the right type for your family and lifestyle.
1. Solid vs. Engineered
Solid hardwood is just as it sounds, a solid plank of wood through and through. Typically, solid hardwood is ¾" thick and comes in widths up to 5". In Alberta's dry climate, when going wider than 3½ inches wide it is advised to go with an engineered product that is more structurally stable. A couple of advantages of solid hardwood include the durability and ability to be refinished multiple times. The main disadvantage of solid hardwood is that it is less dimensionally stable than engineered hardwood and is more susceptible to humidity causing it to expand with high moisture levels and shrink with low levels of humidity. Finally, solid products can only be installed above grade (not in basements), should not be installed in high moisture areas like bathrooms, must be nailed or stapled not floated, and cannot be used in areas with in-floor heat.
Also, Check- https://riverbendinteriors.com/flooring/5-reasons-choose-luxury-vinyl-plank-flooring/
Engineered hardwood has a real hardwood veneer with a cross-layered core of plywood creating a more stable product than solid hardwood. Engineered hardwood is available in different thicknesses up to ¾" and widths ranging from 3" to 9", however products wider than 6" require a more specialized and costly installation such as glue assist. Unlike solid hardwood, engineered hardwood can be installed below grade, over radiant heat (most species), and can be stapled, nailed, glued or floated. Not all engineered hardwoods are manufactured equally and some inexpensive options are more likely to have issues such as delaminating and checking.
2. Humidity and Temperature
Hardwood is susceptible to changes in humidity and temperature in your home causing it to expand and contract. Alberta is very dry and experiences temperatures from -40°C during the winter and +30°C during the summer. Engineered hardwood is designed to mediate the expansion and contraction of the wood when there are fluctuations in humidity and temperature, however, it is still important to maintain a temperature of 18°-24°C and humidity at 35-55% at all times. It is also important to acclimate your hardwood to your home's environment prior to installation. Excessive heat or dryness can cause boards to gap or split while excessive humidity can cause cupping. Damage resulting from humidity or temperature will not be covered under your hardwood warranty.
3. Sheen and Colour
When selecting hardwood the sheen level is also something to consider. It used to be that hardwood always had a glossy finish, however, new introductions come in semi-gloss, matte, and brushed finishes. Glossy and semi-gloss finishes have the most sheen and reflect the lightest while matte and brushed finishes have little to no sheen and light reflection. Glossy and semi-gloss hardwood tends to show minor scratches and wear more readily while matte and brushed hardwood helps hide the wear and tear of a busy household.
Whether solid or engineered, hardwood is available in a multitude of colours. Dark hardwood can create a cozy ambiance in medium to large areas, however, in smaller spaces it can make a room appear smaller. Dark stains also show foot traffic, scratches and dirt more readily causing many homeowners to opt for a medium, light or natural stain. Medium stains help to bring out the natural grain of the wood while lighter stains can make space appear larger. A natural finished hardwood is just a clear stain and allows the beauty of the wood to really show through.
4. Wood Species
Each species of wood has its own colour tone, grain pattern, hardness, and physical properties. Domestic hardwood such as Red Oak, White Oak, Hickory, and Maple tend to have a lighter colour tone unless stained, while woods like Walnut or Acacia have a naturally darker colour.
Colour variation and grain patterns can be quite strong as with Red Oak, Hickory and Acacia, moderate as with White Oak and Walnut, or very clean as with Maple. Depending on the look you are going for, stronger grains and colour variation tend to be busier especially in narrower boards while cleaner grains and less colour variation are more uniform.
Walnut is a relatively soft hardwood that is less susceptible to changes in humidity but is more likely to dent. Red Oak is the benchmark for hardness and performs very well in Alberta's dry climate. White Oak is similar to Red Oak but is harder and is also a stable and durable choice. Harder than White Oak, Maple is another durable option that resists scratches and dents but can shrink and expand with changes in humidity. Hickory and Acacia are hardier species and are more sensitive to low levels of humidity which can result in shrinking and even cracking of the boards.
Conclusion
It's important to know that cost is always a factor and the hardwood flooring industry has had an influx of inexpensive choices. Unfortunately, these less expensive hardwood options have resulted in poor quality and disappointed homeowners. Dealing with a company that is knowledgeable, committed to quality, environmental responsibility, and fair pricing will ensure that your floor not only looks beautiful but performs for years to come.